Development of yarn
Breeze fiber

In our survey, "What are your concerns about wearing shoes for a long time? The most common answers were
"dampness" and "odor".In order to solve this problem, we reviewed socks from the material point of view and spent about six years developing our own "BREATHE FIBER," which is an improved natural wool.
Features of "BREATHE FIBER"
Not stuffy

Wool has excellent moisture absorption and desorption properties, so it does not get damp easily.

Does not smell

Wool originally has the ability to absorb the source of odor. BREATHE FIBER is made of wool.Even after many washes, the deodorizing ability of BREATHE FIBER does not degrade.

pilling resistance

Special processing has made it difficult to form the pilling that is a problem with wool products. It is also a material that does not fade easily.

Dry and comfortable

It has a unique crispness that you wouldn't think of as wool, giving it a silky feel.
SUPER SOX Development Story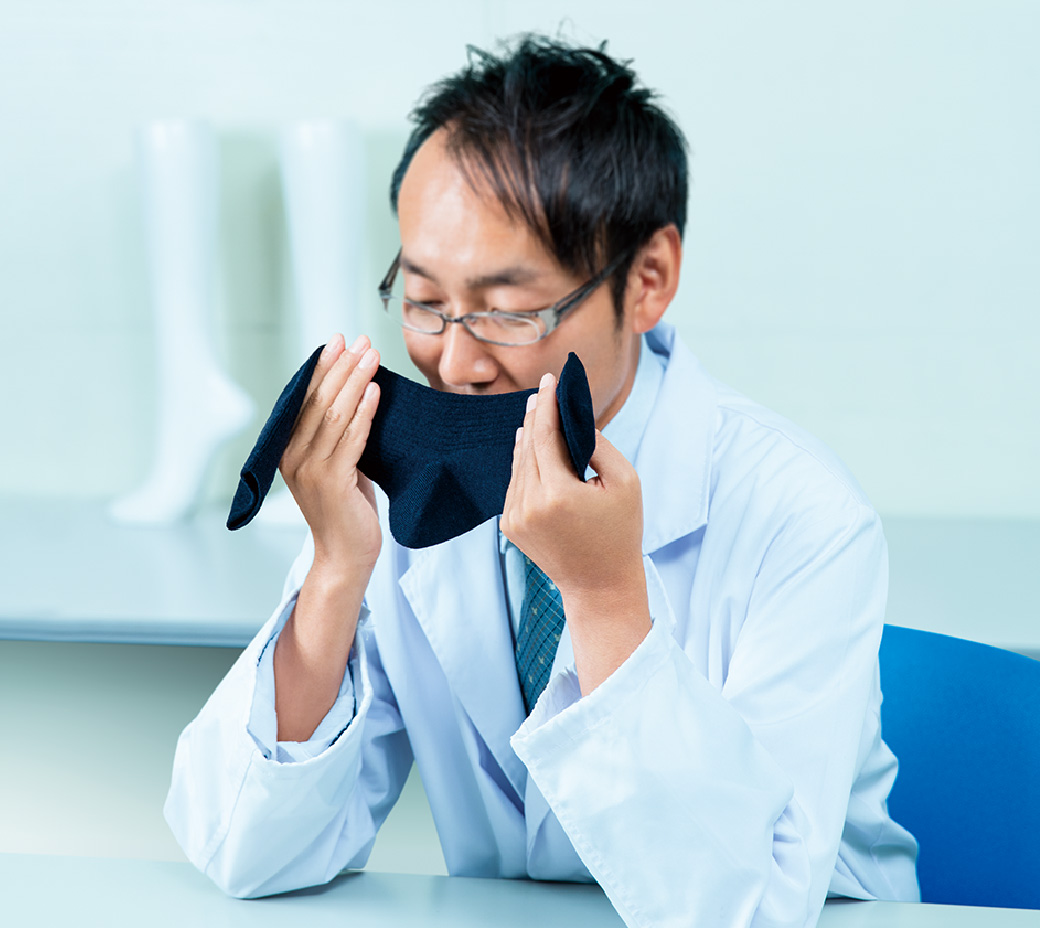 Socks that address the twin troubles of "stuffiness and odor"
The completion of "genuine socks" following a six-year development process.
Socks manufacturers do their part for society by providing products that are functionally superior and considered comfortable. In 1998, following a declaration by our president that we must make "genuine socks," we began work on creating socks that addressed the frequent issue businessmen have with the odor and stuffiness of their feet and continued to effectively nullify that odor even after prolonged wear. We narrowed our focus down to creating a leg condition without stuffiness, and our R&D department also began work on researching fabrics.
However, we came to the realization that no fabric existed that made it possible to successfully offer both the functionality and quality needed to create such an environment. As such, we decided to just develop it ourselves. Based on that decision, as we proceeded with our research efforts, what we focused on was the superior functions of "wool," a natural fiber that strongly absorbs and releases moisture and also has antibacterial and deodorant functions. We eliminated the disadvantages of wool, namely its prickling texture and tendency to shrink, without reducing its strength. With our research capability, we overcame the largest challenge with this product by finally arriving at the creation of a mechanism that eliminates odors at the source. We called this proprietary yarn by Okamoto "BREATHE FIBER." Our president and internal staff ably demonstrated that the socks do not give off an odor even after being worn for five days. Thus, after a six-year development process, we successfully commodified "SUPER SOX." This functional legwear that quelled discomfort with feet went on to become a hit product that cumulatively sold over 11 million pairs.*1
In 2019, we further analyzed customer feedback to change the fabric of "BREATHE FIBER" into "NEW BREATHE FIBER," which offers enhanced durability, sweat absorbency and fit. SUPER SOX have thus grown into a product that our customers find greater satisfaction.
*1 In terms of shipments by Okamoto Corporation between 2004 and 2018"