Environmental Initiatives
Environmental initiatives are now an urgent issue for human society
At Okamoto Corporation, we are even more aware of this situation and our social responsibility.
By reducing the environmental impact in terms of energy and resources, as well as environmental marketing to products and services
We will work even harder to improve communication and trust with our customers and the local community.
Environmental policy
We recognize the global environment that we have inherited from the past as something we are borrowing from future generations,and we promote business activities which take the envurinment in cinsideration in order to ensure that we can pass this environment on to our descendants in a sustainable cindition.
1. Strive to continually improve our environmental management system and prevent pollution.
2. Strictly adhere to environmental related and other requirements to which our company has agreed.

3. Set the following items as priority environmental preservation issues.

1) Initiatives for reducing wasteful woek(promotion of BPR) and reducing environmental burden.
2) Initiatives for promoting energy conservation and prevention of global warming.
3) Development of products which are environmentally, people friendly, and initiatives for promoting technological development.
4) Initiatives for promoting the conservation of resources focusing mainly on product materials (including raw materials) and paper.
5) Initiatives for promoting separate management, reduction of waste, and recycling of marerials.

4.Promote education, training, and development activities for environmental preservation.
5.Extensively cooperate with society and support regional community environmental preservation.
We have documented Environmental Policy and thoroughly disseminated it to officers, employees and all the individuals who work for our company at our places of business, while also making it available to the general public.
Established September 1, 2008
Okamoto Corporation
Environmental Activities
1. Environmental awareness and education

We hold regular study sessions to educate our employees about the environment in order to raise their environmental awareness and understanding.We conduct awareness-raising activities for environmental conservation among departments and offices through environmental awareness surveys and eco-questionnaires via the In-house intranet.
2. Reduce energy saving and CO2 emissions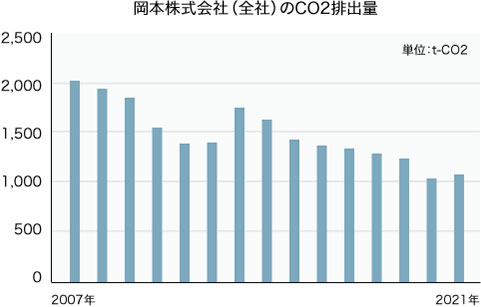 As a result of company-wide efforts to shift to energy-saving equipment, such as upgrading air conditioners to energy-saving types, switching to LED fluorescent lighting, and switching to HV vehicles, as well as familiar eco-activities, such as turning off and reducing unnecessary lighting, thoroughly controlling air-conditioning temperature settings, and reducing standby power, CO2 emissions in fiscal 2019 were 1,255 tons, a 37% reduction from 2,016 tons in fiscal 2007. As a result, CO2 emissions in fiscal 2021 were 1,062 tons, a reduction of approximately 47% from 2,016 tons in fiscal 2007.
3. Utilization of waste
We are working towards the formation of a recycling-oriented society, where waste becomes a new resource and circulates in society. We recycle lint, finished products, and other waste from the sock production process into RPF solid fuel, which is mainly used as an alternative to coal by paper companies. We will continue to promote waste reduction by taking optimal measures to create a recycling-oriented society.